Braces can work wonders in Improving Your Self-Confidence and Self Esteem!
Apart from achieving a Beautiful Smile, Braces Improves the Functionality of your Teeth where Chewing becomes Easier and More Effective.
With Braces, the following issues can be Overcome:
Underbite     Crooked Teeth
Overbite       Overcrowding
Spacing        Crowding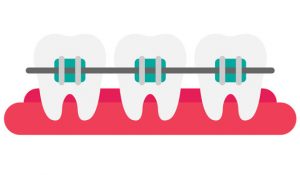 Such issues can sometimes contribute to Gum Disease, Tooth Decay, Tooth Pain, Headache, and other Serious Problems.
Our Experienced Dentists will recommend the most suitable type of braces based on your requirements.
Types of Braces
There are two types of braces, fixed and removable. The least expensive option would be fixed braces.
Metal Braces
The treatment consists of metal brackets fastened directly to your teeth that are then connected by an archwire and held in place by elastic bands. These wires are tightened over time to bring teeth to their desired location.
Ceramic Braces 
Similar to Metal Braces, Ceramic Braces blends in with your teeth allowing a more beautiful smile.
Invisible Braces
Also, called Clear Aligners, they are removable while allowing for an aesthetically beautiful smile even when worn.
Braces Benefits
Braces are devices used to gently move teeth into the ideal position and align how they bite together, known as Occlusion. While some people may have the ideal bite, they may suffer from Varying Degrees of Crowding or Spacing, another factor associated with a Misaligned Bite.
Your smile is the most striking feature of your face. With the "straightening" of your teeth, not only your smile, but your general disposition and appearance will be improved. There will also be an overall improvement in your dental health as it will be easier to brush teeth that are well-aligned rather than those which are "crooked" and crowded together.
Crowding
Crowding is a condition that causes the teeth to overlap, rotate, and sometimes, grow into incorrect positions in the mouth, or in some extreme cases, cause the tooth to become trapped in the bone. These factors may inhibit the adult tooth, forcing it to erupt or grow into an incorrect position.
Crowding makes it difficult to brush and floss the teeth correctly, possibly resulting in tooth decay or gingivitis.
Start Wearing Braces When You Have A Full Set of Adult Teeth
Generally, in children, orthodontic treatment can begin when all the "milk" teeth have been replaced by the permanent ones. However, in some cases, it may be essential for treatment to begin earlier in order to prevent complications from developing as well as to take advantage of the growth of the face.
Braces for Adults
You are never too old for braces! Although teeth can be shifted more easily while the jaw is still growing, it is never too late for braces. However, as the bone structure of adults are more dense, the overall treatment time may be a little longer.
Duration of Treatment
Duration of treatment is dependent on many factors, including the complexity of the case.
At an initial consultation, the orthodontist will perform a complete examination of your teeth and jaw, including x-rays and impressions. From the case findings, the orthodontist will offer professional recommendations on the best course of treatment and an estimate of the cost.
However, in order for treatment to be completed successfully and within the shortest possible time, it is important that you follow your doctor's instructions faithfully and conscientiously.
Feel free to reach out to us for a non-obligatory consultation!
Consult A Dentist Today!